CT Bar and Bat Mitzvah: Crafting the Perfect Experience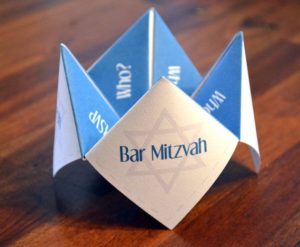 Bar and Bat Mitzvahs are the once in a lifetime event where tradition meets promise and youth. It is imperative to honor your heritage, while still celebrating your child's transition with an event that reflects their individuality. In order to construct your ideal CT Bar and Bat Mitzvah, we at Nicholson Events can turn your ideas into elaborate realities.
You don't want to miss this milestone in your child's life spending your time fretting over the details. Nicholson Events will work closely with you to create the perfect event to balance the sacred rite of passage with the celebration you and your family want.
Themed Experiences

Whether you want to celebrate your daughter's admiration for ballet with an elegant ballerina themed bat-mitzvah, or your son wants his bar-mitzvah to acknowledge his love for sports  Nicholson Events will craft the ideal experience from the theme, choosing an appropriate venue, selecting the entertainment, to interactive games and desired catering like candy bar, cupcake gumball machine, to  implementing the littlest personal details.
Our philosophy encompasses collaborative, personable style with an innovative flair. A Nicholson Events event planner coordinates with you to enure every unique detail is incorporated into your child's special day. Our selection of   live entertainment, interactive MCs, and amazing professional DJs will create a festive fun environment where your child and their guests can dance and celebrate this special time together. Nicholson Events provides a variety of the most popular iterative entertainment,  creative and unique photo booths, magic acts, airbrush artists, pop-a-shot basketball, standard three player & six player air hockey, and four, eight, and sixteen player foosball.
Observance of Tradition
At the core of every amazing Bar and Bat Mitzvah is a reverence for the important religious rite. Nicholson Events will insure that your child's extraordinary day will forever be in the memory of your family as an homage to tradition.
Let Nicholson Events ensure the details of your child's remarkable day as one for the history books so please contact us today.