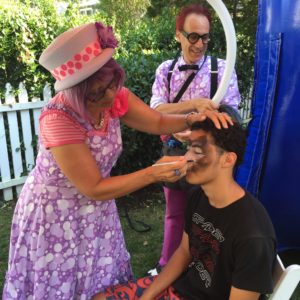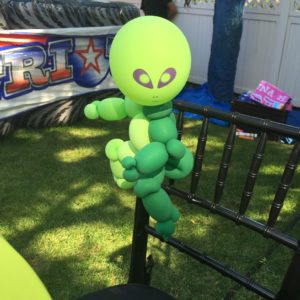 SAMMIE AND TUDIE'S COMEDY MAGIC CIRCUS SHOW IS A NEW YORK CITY FAVORITE.  SOME OF THE MOST POPULAR AND REQUESTED CHILDREN'S ENTERTAINERS, THEY WORK CLOSELY WITH THE MOST EXCLUSIVE PARTY LOCATIONS IN TOWN.
WITH OVER 20 YEARS EXPERIENCE, THEY KNOW HOW TO TAKE THEIR AUDIENCE ON A THRILL RIDE OF COMEDY, MAGIC AND "HOW DID THEY DO THAT??"
**ALL SHOWS HAVE LOTS OF AUDIENCE PARTICIPATION AND SOME OF THE AUDIENCE EVEN GETS TO BE A PART OF THE SHOW!
**THE BIRTHDAY CHILD RECEIVES A SPECIAL GIFT AND GETS TO BE THE STAR OF THE SHOW!
**RECOMMENDED FOR AGES 3 AND UP
30 MINUTE SHOW AND 55 MINUTE SHOW AVAILABLE!!
ALSO AVAILABLE 
FANTASTIC BALLOON TWISTING
BEAUTIFUL FACE PAINTING
GLITTER TATTOOS
CIRCUS/PLATE SPINNING WORKSHOP
Sammie and Tudie have studied at the San Francisco Clown School and The New York Goofs, Ultimate Clown School.  They have worked with instructors who are among the most experienced clowns in the United States: Dick Monday, former director of clowning at Ringling Brothers Clown College; Larry Pisoni, founder of the Pickle Family Circus; Kenny Raskin, who originated the character of "Le Fou" in Disney's Beauty and the Beast on Broadway; Barry Lubin, best known as "Grandma" from Big Apple Circus, and Joel Jeske, formerly with cirque du soleil, Ringling Brothers and barnum and bailey circus and Big Apple Circus
Sammie and Tudie are proud to bring clowning to a new generation with a new look.  They have a realistic touch and the foundation of all of their routines is in their own relationship, so there is always truth in their work.  The children and families identify with this, and then can relate to the humor on a very personal level.